December 2023 Movies: A variety of films are released each week on OTT platforms and in theaters. People are clamoring to see these movies. People look forward to learning which movies featuring their favorite performers are coming out each month. It's looking like the conclusion of the year will be fantastic as well. There will be a lot of movies released in December. People are clamoring to see these movies. All in all, at year's end, you will have had plenty of entertainment. Let's discuss the movies that will be released in December.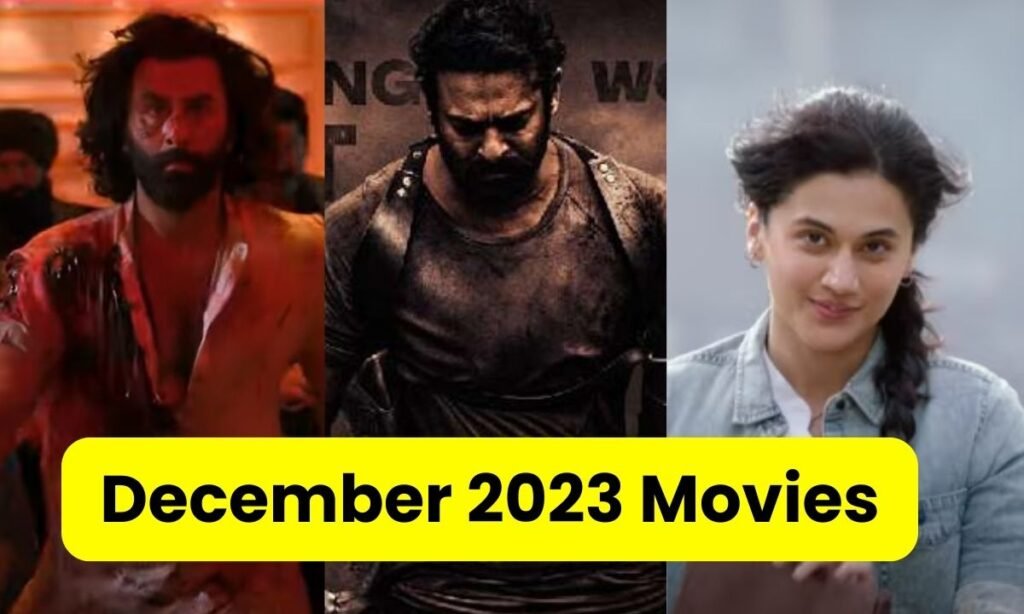 Animal – December 2023 Movies
The movie "Animal," starring Bollywood star Ranbir Kapoor, is making waves these days. A few days ago, the movie's teaser was made public. whereby Ranbir's fierce side was revealed. The crowd enjoyed this action-packed preview very much. In addition, the movie's songs are rapidly going viral on social media. Both overseas and in India, there is a stir over this movie.
In addition to Rashmika Mandanna and Ranbir Kapoor, the movie "Animal" also stars Anil Kapoor, Bobby Deol, and Trupti Dimri in significant roles. The movie was originally supposed to be out on August 11, but post-production caused the date to get pushed back. This movie will now be released on December 1 in theaters.
Sam Bahadur – December 2023 Movies
On December 1st, "Sam Bahadur," the movie will be shown to the public. Fans of this movie are extremely enthralled by it. In this movie, Vicky Kaushal plays the main character. The life of Sam Manekshaw, the first Field Marshal of India, is the basis for this movie.
Sam Manekshaw forced the enemy to surrender in just 13 days during the 1971 war with Pakistan. In this movie, Vicky Kaushal's appearance is revealed. Sanya Malhotra will portray Sillu Manekshaw, the wife of Sam Manekshaw, in this movie, while Fatima Sana Shaikh will portray Indira Gandhi.
Dunki – December 2023 Movies
The headlines these days revolves around Bollywood superstar Shah Rukh Khan's upcoming flick, "Dunki."
The box office records for Shahrukh Khan's films "Jawaan" and "Pathan" have both been shattered. These two movies have both grossed respectable sums at the global box office. "Dunki," Shahrukh Khan's upcoming movie, will be released on Christmas. The release date of this movie is December 21, 2023.
Shahrukh Khan, Taapsee Pannu, Vicky Kaushal, and Boman Irani will all be appearing in this movie. This movie was directed by Rajkumar Hirani.
Salaar – December 2023 Movies
Finally, the release date for Prabhas's movie "Salaar" has been revealed. It will only be made available on December 22, 2023. This implies that "Dunki," starring Shahrukh Khan, will compete with "Saalar." The idea that "Salar" and "Dunki" would compete has been discussed for the past few days. However, no official decision was made. However, with the announcement of "Salaar's" release date, it was determined that two major stars will compete at the box office later this year.
Prabhas, Prithviraj Sukumaran, and Shruti Haasan play the key characters in this movie.
We sincerely hope that this post has been helpful to you; please tell your friends about it so they can also benefit from it.
Also Read : OTT Releases In November: Complete package of entertainment on OTT; From 'Apoorva' to 'Pippa', see the list here